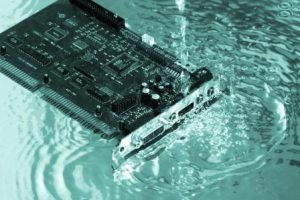 The 20-2330 Series of low durometer urethanes, ranging from Shore A 30 to Shore A 90, is perfect for protecting electronic and other components in extreme conditions.  This Series has outstanding resistance to water, good chemical resistance, and provides great electrical insulation.  The products maintain their flexibility over a broad temperature range (from -40° to 125°C), and even when cooled to -72°C exhibit very little increase in hardness.
The 20-2330 Series of potting and encapsulating compounds has been used successfully to protect water meters and underwater electronics.  The softness of these products makes repair of components easier. They are an excellent alternative to more costly silicones due to their flexibility, electrical insulating properties, and superior adhesion.
Features:
Hydrolytic stability
Water resistance
Chemical resistance
Flexibility over broad range of temperatures
Excellent electrical insulation
RoHS and REACH compliant
Thermal cycling stability
Low glass transition temperature
Samples may be requested by emailing Sales@epoxies.com.