One Component Epoxy Engineered For Electronic Applications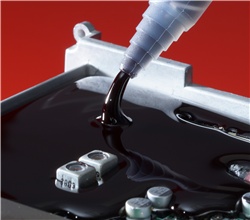 Mixing and proportioning of two component epoxy systems is time consuming and prone to processing errors.  The 20-3213 is a one component heat cure system designed for electronic applications requiring excellent dielectric properties.  No more weighing and mixing.
20-3213 is low in viscosity (3,000 cps) allowing for easy flow and quick processing. It can be used as an impregnating compound in electrical laminations, a potting compound, and an underfill encapsulant.  Once cured, the epoxy provides excellent moisture protection and electrical insulation properties.
A popular packaging option for the 20-3213 is pre-filled 10, 30, or 55cc syringes.  One and five gallon bulk packaging is also available.