New Medical Grade Adhesive, Sealant, and Encapsulant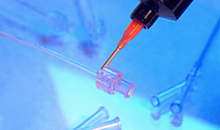 Epoxy adhesives, sealants and potting compounds must meet certain requirements in order to be considered for use within or as a part of a medical device. In addition to important cured properties such as hardness, temperature and chemical resistance, tensile strength and electrical insulation properties; the epoxy must also meet certain biocompatibility requirements.
The ISO 10993-5 Cytotoxicity Test is a fast, reliable and cost effective way to screen for candidate materials. It consists of exposing cells to the cured epoxy and watching for signs of toxicity (change in size or appearance of cells or disruption in their configuration).  20-3401 meets the ISO 10993-5 Cytotoxicity Test Method Acceptance Criteria and may be suitable for use in medical electronics and instrumentation.
20-3401 passes ISO 10993-5 Cytotoxicity Test and is an excellent indicator that it will not cause issues during FDA approval.  However, Epoxies, Etc. recommends independent testing for the final assembled product.
20-3401 is also RoHS and REACH compliant and is available in convenient FreezedBond® premixed and frozen syringes.