FDA Compliant Epoxy Adhesives
Adhesives, Sealants and Potting Compounds Suitable for use in the
Food Processing Industry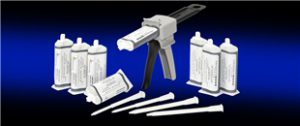 Epoxies, Etc. features many products considered safe for food contact.  Epoxy and urethane adhesives, sealants and potting compounds that are formulated to meet the Food and Drug Administration (FDA) regulations of Title 21 CFR 175.105 and 175.300 are permitted for use in indirect food contact applications.
Some examples of the applications where Epoxies, Etc. has formulated solutions in this area include:
Bonding stainless steel mesh used for screening dry goods
Sealing seams in food processing equipment
Encapsulating LED's used in inspection equipment
Bonding knife handles
Form in Place gasket for machinery
Encapsulating electronic circuits/ printed circuit boards
Potting temperature probes
10-3062 Two component epoxy adhesive that features excellent adhesion, chemical resistance and electrical insulation. Packaged in convenient TriggerBond® Cartridges.
10-3063 White, higher viscosity version of 10-3062. Also packaged in TriggerBond.
20-3068 Two component epoxy potting compound with excellent chemical resistance and clarity
10-3033 Two component, thixotropic epoxy adhesive with excellent adhesion and chemical resistance.
20-3072 Two component epoxy potting compounds/sealants that are ideal for protecting electrical connections that may be exposed to chemicals.